Investors had a sigh of relief as the U.S. and China made some progress on the trade front. While it didn't put an end to the dispute and there's plenty of negotiating left to do, it signaled that, at least for the immediate future, the trade war won't escalate. That allowed markets to rally and gave us a whole new set of top stock trades to watch.
Top Stock Trades for Tomorrow #1: Nasdaq
Before we get too far, let's zoom out and look more broadly. Specifically, let's look at the PowerShares QQQ ETF (NASDAQ:QQQ), which fell more than 16% from peak to trough. That's a rather notable decline for an ETF such as this.
In any regard, we have shares rallying through the $173 mark and pulling back. That's significant, as Monday's move in the QQQ initially put it through the 50-day and the 200-day moving average. It's been a quick — and doubted — 9.5% rally off the lows. It's making many investors hesitant to chase as well.
From here I want one of two things for the bulls: Either pullback or consolidate in this area and hold the $170 level or rally again over the next few days and then stay above the 50-day/200-day area.
The markets already seem a little tired on Monday, so if we get some profit-taking over the next few days, I want to see $170 hold. If it doesn't, $166 is on deck.
Top Stock Trades for Tomorrow #2: Netflix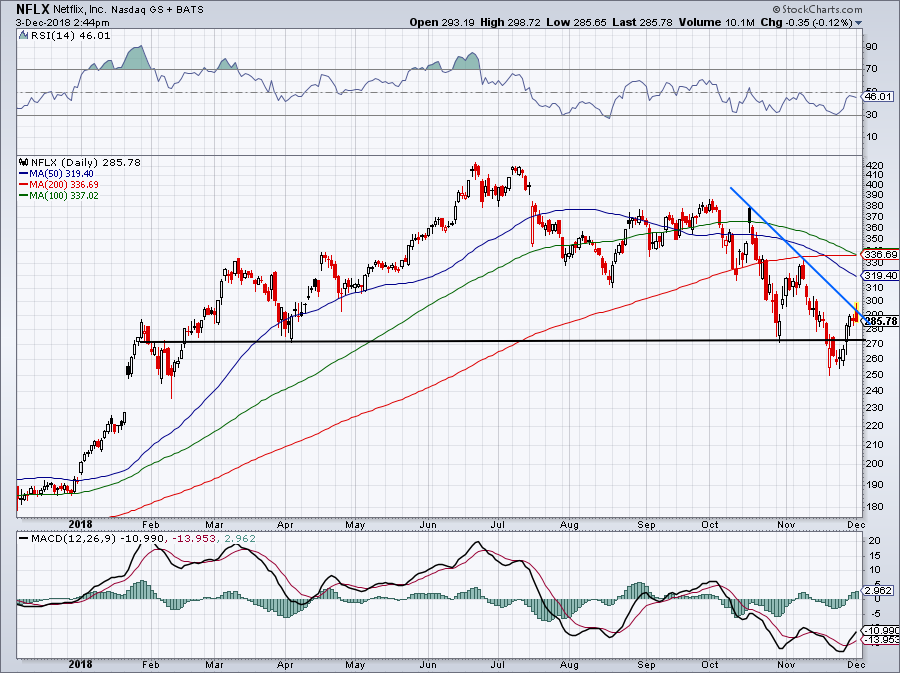 Netflix (NASDAQ:NFLX) was uninspiring on Monday, hitting almost $300 per share before falling flat and landing at $285. Ugh. This one has been a defeating one for the bulls.
The move isn't too surprising, given that NFLX failed right at downtrend resistance. As long as it as stays above $270 though, the bulls might be all right.
If it does, it will secure a "higher low" and give NFLX more energy to push through that resistance mark. The key to watch is which level gives way first. If it's $270, the November lows are back in play.
Top Stock Trades for Tomorrow #3: Square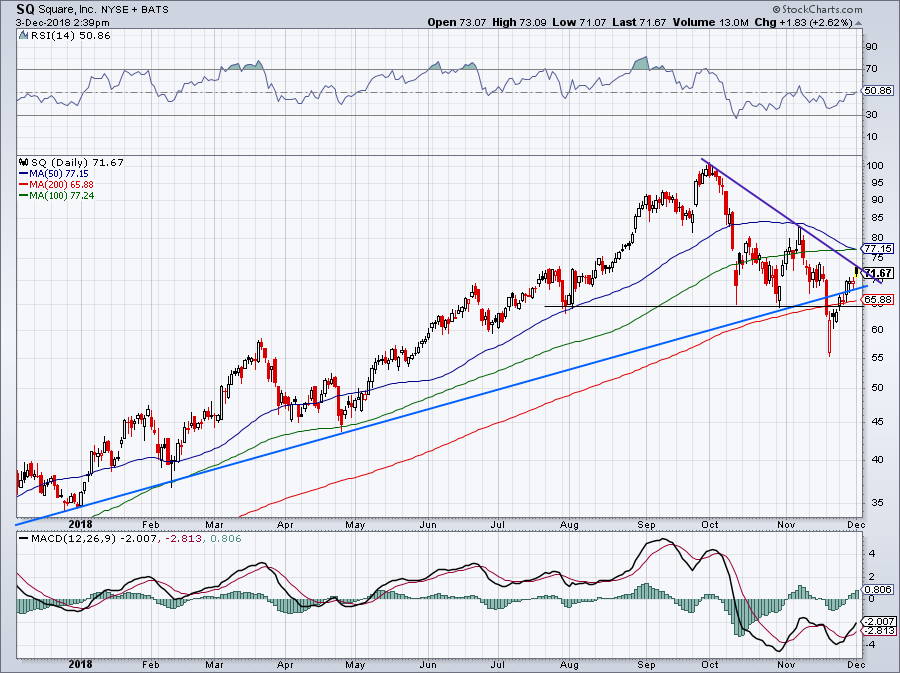 Up almost 30% from the lows, many investors are wondering if they missed the train on Square (NYSE:SQ).
Like NFLX, shares are running right into downtrend resistance. Bulls can buy a dip down the $68 to $70 level and use a close below $65 as their stop-loss. There's decent support nearby to warrant a long position for aggressive investors, but below support and things could get ugly.
Top Stock Trades for Tomorrow #4: Advanced Micro Devices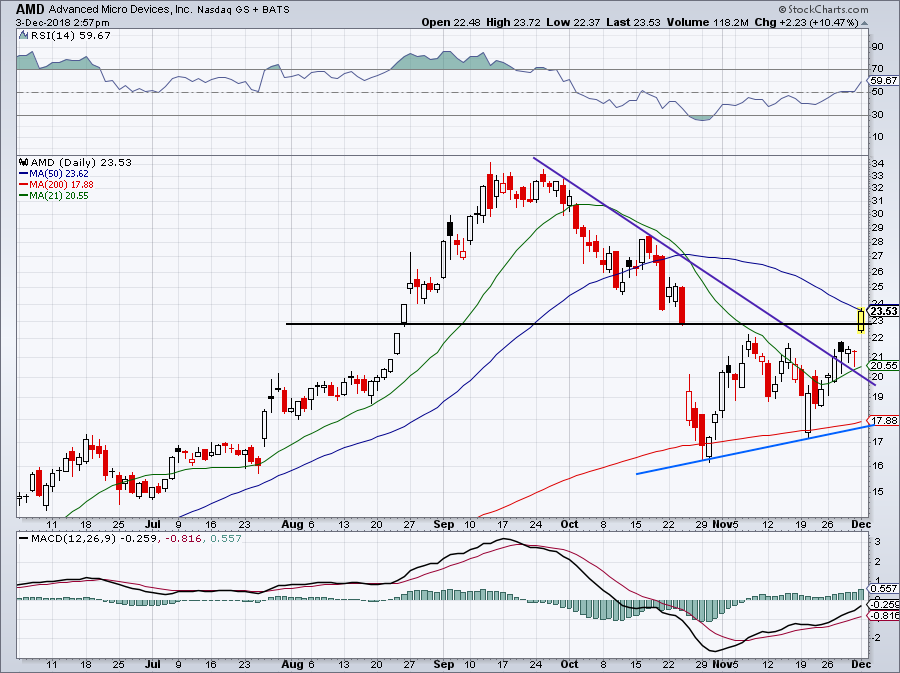 This one is putting money in bulls' pocket, with Advanced Micro Devices (NASDAQ:AMD) shares rallying almost 11% on Monday. A week ago, we flagged this trade, and noted several times afterwards that the risk/reward remained appealing.
That's as AMD consolidated above prior downtrend resistance (purple line). As shares now run into the 50-day moving average and $24 level, those who bought may consider booking some or all profits.
For those that are letting it ride, I wouldn't let shares get below $23.
Top Stock Trades for Tomorrow #5: Celgene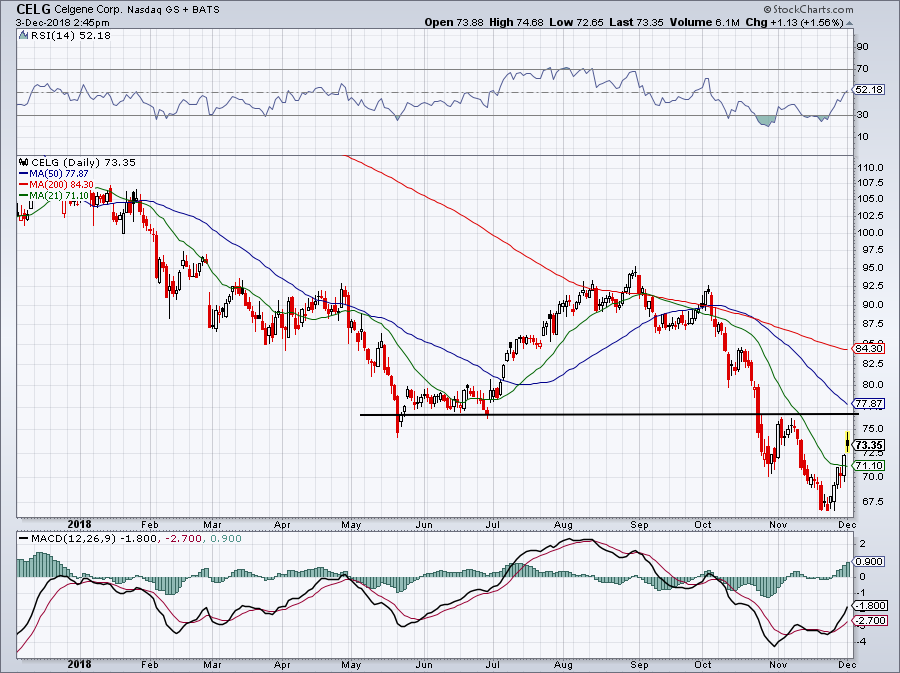 Celgene (NASDAQ:CELG) is moving strong off the lows, but has been weak all year. I own a morsel of the stock for its low valuation and solid growth, but other than that, Celgene has been painful ride.
Coming into this $77-ish level, we'll find out which group — the bulls or the bears — will harness control. This level was support for several months in early summer, but turned to resistance in November. Just above this mark is the 50-day moving average as well. Should Celgene fall — which wouldn't be a surprise — look to see that the 21-day moving average holds as support. If it doesn't, the lows are back in play.
Bret Kenwell is the manager and author of Future Blue Chips and is on Twitter @BretKenwell. As of this writing, Bret Kenwell is long CELG.