Investors are doing their best to get positioned ahead of this weekend's G-20 Summit. While not typically the most important trading event in the world, this year's meeting comes with U.S. and Chinese trade tensions relatively high, with hopes that a deal can be worked out. Although cautiously optimistic, we are seeing some downright big moves in today's must-see stock charts.
Workday (WDAY)

Click to Enlarge Shares of Workday (NASDAQ:WDAY) are ripping 13% to new all-time highs following its better-than-expected earnings results. Shares are now up more than 30% from where they were trading just a few sessions ago.
Investors who aren't long by now might just want to chalk this one up as a missed opportunity.
Go ahead and throw WDAY on your watch list for a future opportunity. The reason being, I like to see names that make explosive moves like this and then settle into more tradable ranges down the road.
That said, if we start to get a pullback or consolidation in WDAY soon, look to see how the $157.50 level treats it. If it acts as support, aggressive traders can dip their toe in. Otherwise, consider this stock next stock instead …
Splunk (SPLK)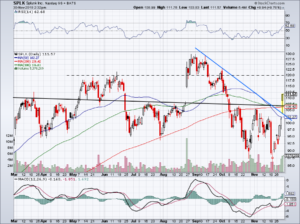 Click to Enlarge Splunk (NASDAQ:SPLK) is also up big after beating on earnings, jumping more than 10%. However, shares have a much more attractive setup here, as the risk is more well-defined.
I like SPLK here so long as shares are over the 100-day and 200-day moving averages, or ~$106.
Truly, as long as SPLK is over the 50-day and downtrend resistance (blue line), the stock is fine, but I don't want to take on that much risk. A close below the 100-day and 200-day moving averages and investors may want to reassess the setup. Otherwise, $120+ doesn't seem out of the picture.
VF Corp (VFC)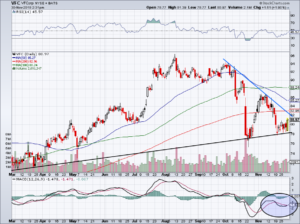 Click to Enlarge Another name up on the day — although to a much smaller degree — is VF Corp (NYSE:VFC). Shares are rallying 2.1% and a breakout could be looming. That's particularly true if retail stocks get some love going into the holidays.
We see uptrend support giving VFC a lift, while downtrend resistance (blue line) is keeping shares under pressure. A close over downtrend resistance technically makes VFC a good bet on the long side, but the 200-day moving average could present an issue.
The MACD is also turning bullish (blue circle), which bodes well for longs.
While I don't love all the moving average hurdles above, going long VFC over downtrend support is attractive if only because we can use a defined risk by stopping out of the position on a close below uptrend support.
Intel (INTC)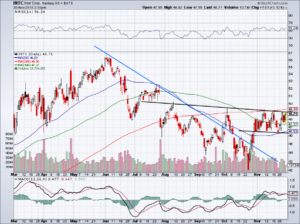 Click to Enlarge The bullish trade in Advanced Micro Devices (NASDAQ:AMD) is still valid, but one has to be impressed with how well Intel (NASDAQ:INTC) has been holding up. Particularly with how poorly Nvidia (NASDAQ:NVDA) has been doing this month.
I love that Intel was able to clear downtrend resistance and is now consolidating in this $46.50 to $49 range. It makes me feel like once over resistance, this name can run into the low-$50s. The other nice part? A close below $46 and investors can stop out.
Wait for Intel to show a little bit more momentum or consider buying on a pullback into range support.
Weibo (WB)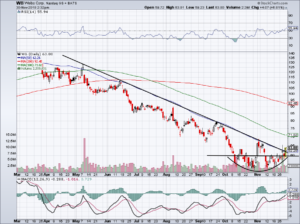 Click to Enlarge Weibo (NASDAQ:WB) reported earnings earlier this week and has been slow to get moving, but boy does this chart look attractive.
With a rounded base of support in the mid- to upper-$50s, along with WB clearing the 50-day and downtrend resistance, investors have a very attractive risk/reward here. Below $60 and we can stop out. On the upside, look for a rally up to the 100-day moving average as target No. 1.
From there, we can reassess.
Bret Kenwell is the manager and author of Future Blue Chips and is on Twitter @BretKenwell. As of this writing, Bret Kenwell is long NVDA.