Wednesday's opening gap wasn't a screaming problem on Thursday after all. The S&P 500 managed to log a 1.06% gain yesterday, putting what was likely to be a significant low from Monday further back in the rearview mirror. Still, the buying volume is getting progressively weaker, so don't be shocked should the bears take a swipe. It's what happens after that swipe that matters.
Fitbit (NYSE:FIT) was the day's most pleasant surprise, up a whopping 25.8% after swinging back to a nice profit thanks to the relatively new Versa watch. Apple (NASDAQ:AAPL) was at the other end of the win-loss spectrum … at least after the market closed. Although its 1.5% advance during the regular session was a big boost for the broad market, AAPL tanked in the after-hours session in response to a lackluster fourth quarter iPhone sales and lackluster guidance.
It's the kind of volatility that makes both names too tough to trade. Rather, it's stock charts of Intel (NASDAQ:INTC), Altria Group (NYSE:MO) and L Brands (NYSE:LB) that are dropping hints that traders can at least somewhat trust. Here's a closer look.
Intel (INTC)
Exactly one week ago Intel shares had pushed up and off a major support line. It could have been the beginning of something bullish, but as of that time, the stock hadn't fully backed away from the danger of a breakdown.
It did in the meantime. And yet, as bullish as INTC may look now, it's been suspiciously unable to hurdle a major technical ceiling.
The technical floor in question was, and still is, $42.36, plotted with a red dashed line on both stock charts.
The ceiling that came into play is the 100-day moving average line, in gray. Intel tried on Wednesday and Thursday to hurdle it, but to no avail. Had INTC shares not struggled in the past with moving average lines, it wouldn't be as much of a concern now. Those past struggles are highlighted on the daily chart.
Though up firmly since last week's low, notice the buying volume has been petering out.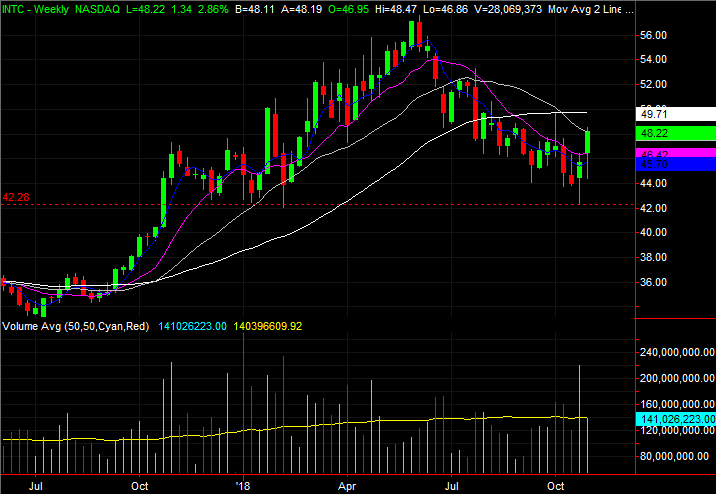 Altria Group (MO)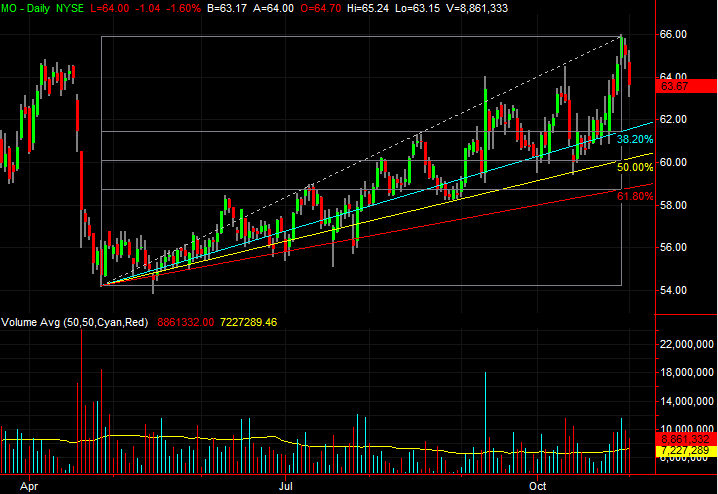 The rally from Altria Group shares since May are the real deal. Although back and forth, in a bigger-picture sense it's been reliable. More than that though, the path MO stock has traveled since bottoming and turning in May has been right as cued by Fibonacci retracement lines, and by Fibonacci fan lines in particular. The stock's due for a dip, but it's pretty clear where those dips are apt to stop and reverse.
The expanding fan lines are plotted on the daily chart, based on the rising technical ceiling that tags most of the major peaks since the rally began. That line is marked with a dashed line.
Not only are the 38.2%, 50% and 61.8% retracement lines the most likely landing points for a pullback, they've already been used as floors and pushoff points.
The weekly chart makes clear that more and more buyers are coming into Altria, given the Chaikin line's cross above zero in June and the rekindled uptrend seen beginning last month.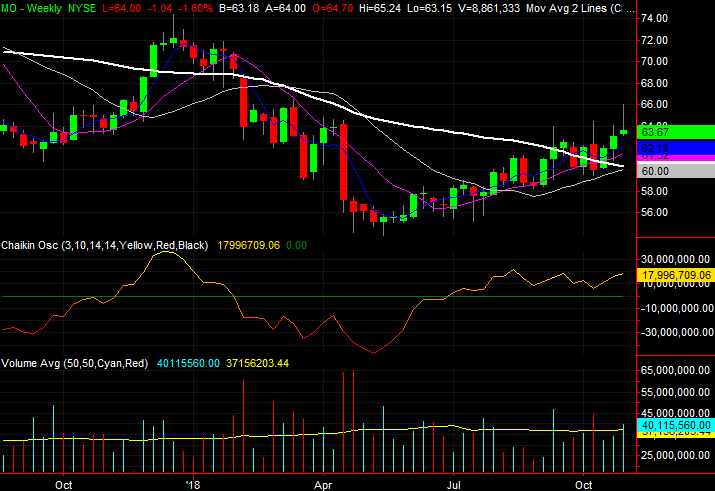 L Brands (LB)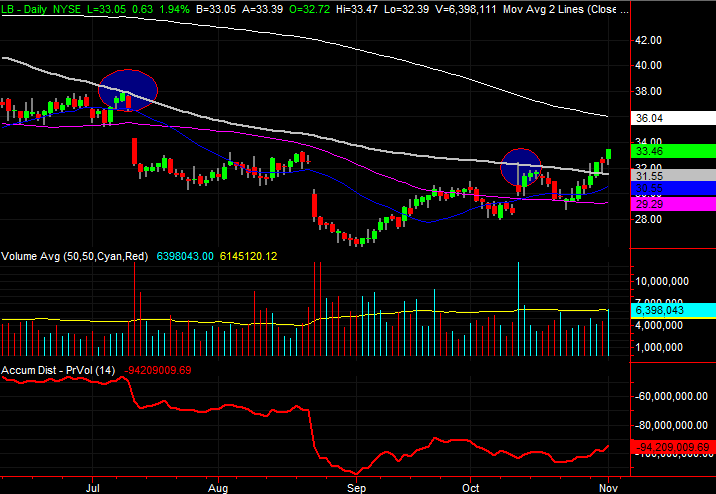 Finally, the bears had plenty of opportunity and time – and reason – to keep L Brands shares held down. And, with some help from a key moving average line, they've been able to do just that since early this year.
Things changed dramatically this week, however, when LB shares finally hurdled the technical ceiling in question. Thursday's high-volume buy-in suggests there may be a bunch of buying pressure waiting in the wings.
The technical ceiling that's no longer holding L Brands shares back was the 100-day moving average line, plotted in gray. That past two times it was tested, the stock couldn't clear it.
Note that Thursday's volume was much stronger than all the recent selling days, and stronger than the recent buying days. Would-be buyers are materializing.
The 200-day moving average line, plotted in white on both stock charts, looms above as potential resistance. But, if that can't hold the bulls back, the next most plausible target is the peak around $61 from late last year.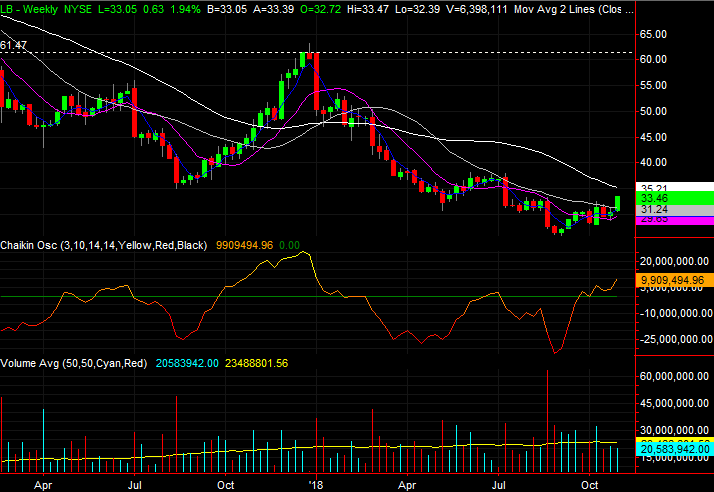 As of this writing, James Brumley did not hold a position in any of the aforementioned securities. You can follow him on Twitter, at @jbrumley.